Megabass FX9 ~ Moving Lip Jerkbait
Type: Shallow. Rising. Rolling. Silent.
Length 90mm
Weight 3/8oz
The FX-9 is a jerkbait with a moving lip which streamlines casting, increases action when retrieved and enhances irregular darting actions. The action of FX9 is largely dependant upon this moving lip. When casting, the lip settles horizontal to the body to minimize air resistance and maximize flight distance. But the advantages of the moving lip do not end there. When performing in the water, the lip moves depending on the water reisistance against it. That is, during jerking actions, the lip quickly flips back and forth, and creates darting action which anglers ahvenever seen in a lure before. With some twitches, FX9 swings its head to the left and right. With a fast retrieve, it creates a 180 degree roll to each side without losing its balance. When FX( rolls, it swims leaving a trail like the letter "S". When the retrieve is stopped, FX9 rises with its head up.
The internal weighting system is fixed and therefore silent.
Note that the FX9 Strobe version has the addition of an internal flashing plate.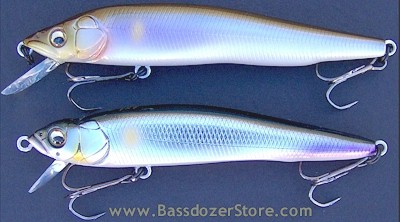 Slightly smaller than the Vision 95 (top), the FX9 (bottom) can perform more erratic actions and casts longer distance.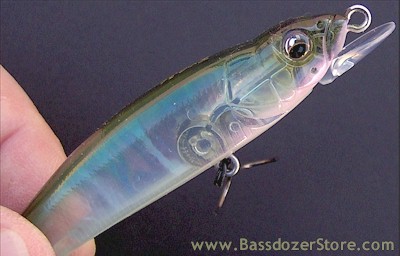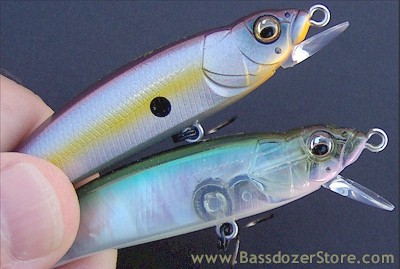 FX9 with lip horizontal to body for casting distance (top) and lip fully extended (bottom).
Equipped with Katsuage Treble Hooks. Megabass original Katsuage hooks have an out-barb, out-point and are wide gap with a 'near-center' seat for the hook to stay pinned. These trebles are specifically designed for jerkbait bites, which are often tricky hooksets.
---
Items in photos above not included with item for sale.
The price is for one (1) fishing lure brand new in box as shown below.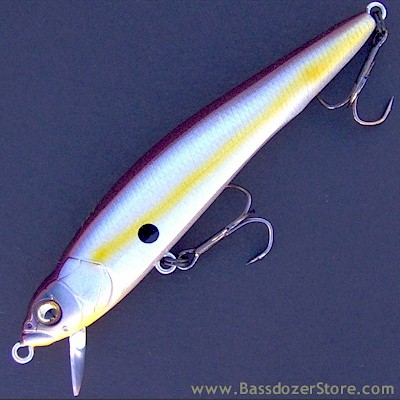 Megabass FX9 ~ Moving Lip Jerkbait ~ Megabass Sexy Shad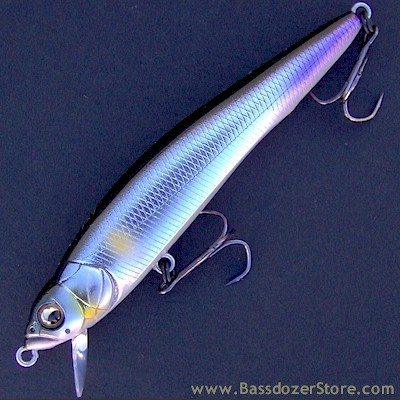 Megabass FX9 ~ Moving Lip Jerkbait ~ Wagin Tenryu Ayu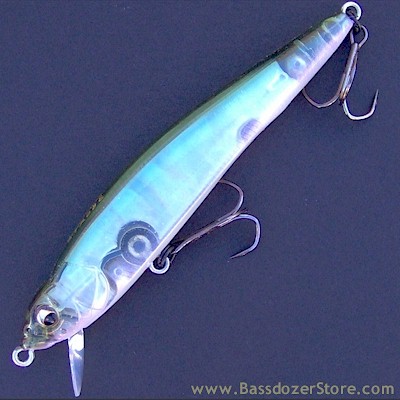 Megabass FX9 Strobe ~ Moving Lip Jerkbait ~ NC Crystal Shad
For pricing and current availability, please visit http://www.BassdozerStore.com.
Thank you for your business. May your next fishing trip be your best ever!
Regards,
Russ