Bomber Balsa Model B ~ Heavy Duty Shallow Balsa Crankbait

| | | | | | |
| --- | --- | --- | --- | --- | --- |
| Name | Model | Size | Weight | Depth | Type |
| Bomber Balsa Model B | BB5SL | 2-1/2" (54mm) | 1/2 oz (14g) | 0-3 ft | Shallow Crank. High buoyancy. Balsa. Fat-bodied. Wide-wobbling. Square lip. Heavy duty. |
The quality, performance and toughness of the Bomber Model B is exceptional.
Because it's made of balsa wood, the Model B is highly buoyant, and that buoyancy gives it a vigorous, hard-working wide wobble that calls fish from afar, even in dirty water!
It does not have rattles, but displaces so much water and wobbles so hard that it gives off heavy vibrations all by itself.
This shallow runner comes through heavy cover very well. Being highly buoyant and fat, it deflects off anything it hits, and the tough paint job holds up to hard raps. Even if it gets stuck, it will usually float up out of whatever's grabbed it with a little rod tip shaking.
These are big-bodied balsa cranks with big hooks and the tough polycarbonate TruTrack skeleton frame gives them rock solid strength.
Other balsa crankbaits are typically delicate, fragile, because the wood is soft and they require light tackle and a gingerly touch or the screw eyes (used on other balsa baits will twist loose or pull out. The Balsa Model B does not have that problem. It is heavy duty, with big hooks and can be used with heavy tackle.
The Balsa Model B feature traditional balsa wood construction - but with Bomber's new, highly advanced Tru-Track polycarbonate frame system. The Bomber Tru-Track system is a super tough polycarbonate one-piece skeletal frame that runs from the nose to the tail through the body of the crankbait and includes the diving lip on it. This one piece skeleton contains the rock solid hook hangers in the nose, belly and tail section. It eliminates hook hanger failure - a very common problem with traditional balsa crankbaits. Also, since the lip is a solid part of the Tru-Track skeleton, the lip can never be out of line and can never break loose - other common problems with traditional balsa baits.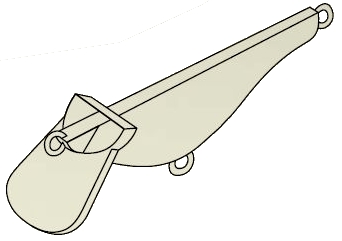 Whereas other balsa baits need to be used with light tackle to avoid pulling the hook hangers out, the Bomber Balsa B, due to the Tru-Track polycarbonate frame can be used with heavy tackle, and is equipped with heavy duty #2 treble hooks.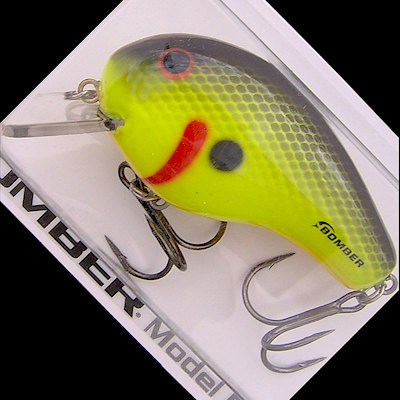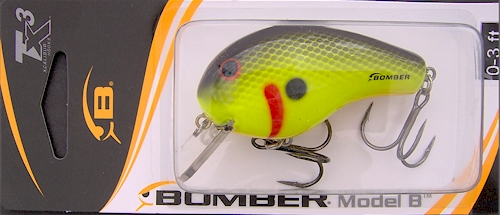 Bomber Balsa Model B ~ Shallow Crankbait ~ Black Chartreuse. Note: This color has an attractive orange underbelly from throat to tail.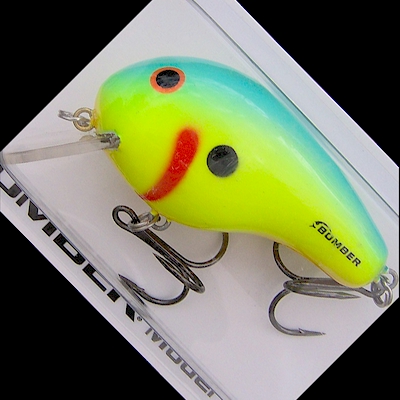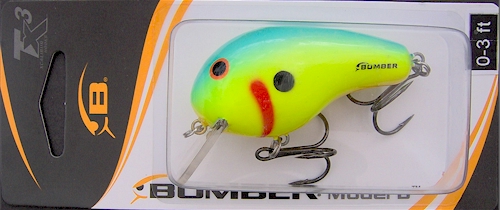 Bomber Balsa Model B ~ Shallow Crankbait ~ Chartreuse Blue. Note: This color has an attractive orange underbelly from throat to tail.
For pricing and current availability, please visit http://www.BassdozerStore.com.
Thank you for your business. May your next fishing trip be your best ever!
Regards,
Russ